Bill Denz Award
New Zealand Alpine Club is proud to introduce a new award to the climbing community. The Bill Denz Award celebrates the spirit of adventure Denz displayed during his climbing career. The award is not limited to first ascents or expeditions, if you or someone you know has had an epic adventure in the period 30th April 2022 to 30th April 2023 see below how you can send in a nomination. Nominations for 2023 are now closed.
Prizes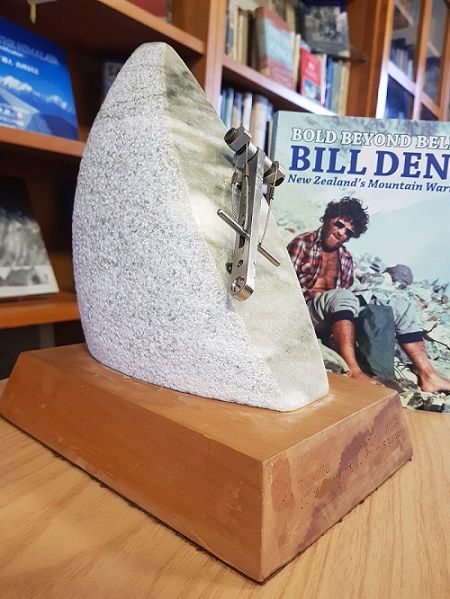 Bill Denz Trophy (featuring one of Bill's own cams)
$1000 cash/prizes
Nomination Criteria
The trophy will be presented annually to an individual or team that displays some or all of the following attributes:
Determination
Boldness
Innovation
Adventurous spirit
Resilience
Vision
Nominated person/s must be an NZAC member.
Nominations are open from Monday 26th June until Friday 14th July 2023 for the period 30th April 2022 to 30th April 2023.
The inaugural award evening will be held on Thursday 14th September at the Canterbury Westland Section night at the Cashmere Club.  Guest speaker will be Geoff Gabites, who will present about some of Denz's climbing achievements as an introduction to the award.
Award recipients will be required to give a Section night talk and/or submit a story about their adventure for the NZAJ.
Nominations are to be submitted by clicking on this link and completing the form.
Judging
Nominations are reviewed by a panel of five judges.
The judges will select a winner and at their discretion and may also award an honourable mention.
Judges decisions are final and no correspondence will be entered into.
Judging Panel
Tom Hoyle
Simon Middlemass
Penny Webster
Jane Morris
Geoff Gabites

About Bill Denz
Bill Denz (1951-1983) was a true iconoclast. His short but spectacular climbing career had a transformational effect on the progression of hard climbing in Aotearoa New Zealand during the 1970s and early 80s. Born in London to a New Zealand father and English mother, Denz moved to Dunedin with his family when he was two. He started going into the mountains with the Otago Tramping Club and in 1969 he joined the New Zealand Army to normalize his life after an unsettled childhood. In Waiouru, he used all his leave to further develop alpine skills on Mt Ruapehu. A very successful three weeks of climbing at Aoraki/Mount Cook over the summer of 1970-71 culminated with a solo Grand Traverse of Aoraki in early 1971. A few months later, Denz quit the army to return to Dunedin where he took up study at Otago University and climbed whenever he could. Over the next four years, Denz climbed numerous cutting edge first ascents in the Mount Cook region and on untouched big walls in the Darrans. Climbs included the Balfour Face of Mt Tasman, solos of Mt Tasman, Dampier, Caroline Face, and the South Face of Aoraki and two homegrown-styled big wall climbs on the towering north faces of Marian and Sabre. First winter ascents included the South Face of Douglas, the South and North Faces of Hicks, the Sheila Face of Aoraki and the Balfour Face.  
Never satisfied, Denz moved to California in 1978 to improve his rock climbing and gain big wall experience. In Yosemite, he made early repeats of Excalibur and Pacific Ocean Wall on El Capitan. The following year he spent five months in Patagonia attempting Cerro Torre. Persistent storms ended his 13th and final attempt 80 metres below the summit. In 1980, Denz moved to Alaska, where he made the first ascent of the coveted East Face of Kitchatna Spire with Scott Woolums. Solo expeditions to the Himalaya followed. The first ascent and traverse of Kusum Kanguru and two attempts on the unclimbed Menlungtse. In Europe, a planned winter solo of the North Wall of the Eiger was only stalled by bad weather.
Returning home periodically, Denz continued putting up hard new routes at Mount Cook and completed most of a mountain guide qualification. In July 1983, he and Kim Logan climbed the era defining Hongi's Track on the South Face of Sabre. It would be his final climb in New Zealand.  
A planned series of expeditions with Peter Hillary to the world's highest mountains tragically ended when Denz was killed in an avalanche on their first objective, the West Pillar of Makalu, on 3 October 1983.
Bill Denz was one of New Zealand's greatest ever climbers and a world class mountaineer. People who met him still like to tell their own Denz story and his solo exploits have become the stuff of legend. Many of his feats could defy belief if it wasn't for the fact that they were all too real. New Zealand has never produced another climber quite like him.
Paul Maxim