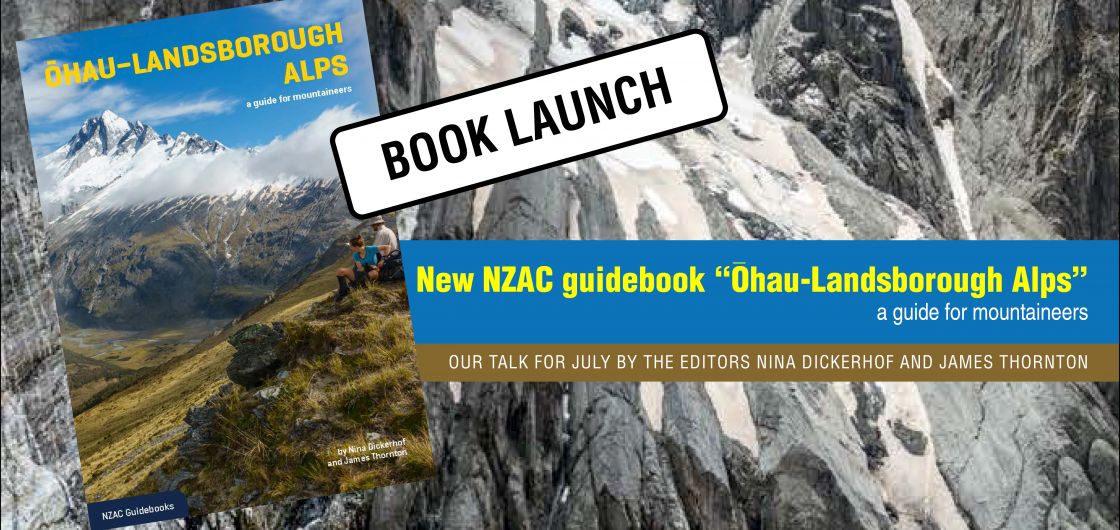 -
Book launch: NZAC guidebook 'Ohau-Landsborough Alps – A guide for mountaineers'
The Ōhau–Landsborough region takes in the mountainous country stretching from the southern boundary of Aoraki/ Mt Cook and Westland National Parks to Haast Pass/Tioripatea. Encompassing
4000 km 2 of alpine terrain, it is a stunningly beautiful area that offers endless opportunities for mountain enthusiasts, from the highly accessible Ben Ohau Range, to the remote and rugged peaks of the Hooker Range. This new and revised edition includes all new routes climbed since the 2002 Barron Saddle–Brewster edition. Coverage has been extended west to the Haast Highway to take in the spectacular peaks of the Strachan, Bannock Brae, and Bare Rocky Ranges.

The editors Nina Dickerhof and James Thornton will give an overview of the area, cover some of the distant and recent climbing history, share some anecdotes from their 'research trips' and provide some ideas for climbs that would make the new book out-of-date.

The guidebook will be available for purchase on the night.

Everyone is invited to our talks, you don't need to be an NZAC member to attend. Doors open at the Cashmere Club, 7pm with talk starting promptly at 7:30pm. Refreshments can be purchased at the bar.