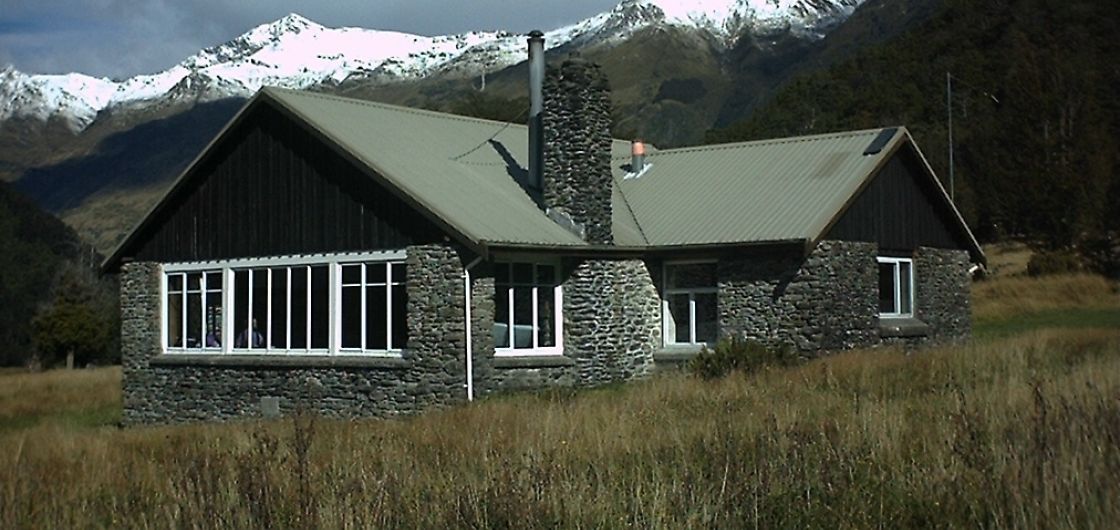 Aspiring Hut Refurbishment 2022
Aspiring Hut is owned by NZAC and managed by Department of Conservation (DOC) under the NZAC-DOC Aspiring Huts Management Agreement. The hut is located on Stewardship Land, outside the Mt Aspiring National park boundary, under a concession agreement with DOC.
Sitting in the beautiful West Matukituki valley, the hut has been an important location for outdoor enthusiasts since it opened in 1949. Mountaineers have used it as a base for trips to Mt Aspiring and surrounding peaks and trampers and families have used it as a destination in its own right. It has also become a popular day walk for tourists in recent times.
The need for significant earthquake strengthening work was identified in 2013 when the hut was determined to have between 30% and 80% of the current Building Code seismic strength.
Subsequently, the need for significant other work was identified and NZAC resolved to investigate a full refurbishment of the hut as part of the strengthening project. Geotechnical studies delayed the project by two years and then Covid issues further delayed until 2021 when approval in principle to proceed with upgrade works at Aspiring Hut was given by Aaron Fleming, DOC Southern South Island Director, on 7 September 2021.
The catalyst for this work was the need for seismic strengthening of the hut. However, the Alpine Club is determined to use this opportunity to upgrade the facility to make it more fit for purpose for current and future users. The type of user and way in which people use the facility has changed significantly since 1949 when it was built.
Hut usage has been steady at about 3000 bed nights pre Covid and 2600 in 2019/20 but there is a noticeable increase in New Zealand and Wanaka residents now using the hut especially with younger family groups.
Outdoor Education
The Matukituki valley offers an excellent training base for groups undertaking bush, navigation and mountaineering training. Currently the facility does not offer basic amenities conducive to these training courses, such as more appropriate spaces for teaching, anchors for teaching ropework and separated bunkrooms which allow more easily for alpine starts. The upgrade will address these issues and ensure that the hut is an excellent training base for the Club and other groups into the future.
NZAC sees the opportunity to use Aspiring Hut as an alpine training area to supplement Aoraki Mt Cook where climate change is making access to snow a safety issue whereas from Aspiring Hut snow can be reached year round.
Family friendly recreation
Over the years, the users of the hut have changed from mountaineers, adventurers and trampers to more family groups, novice trampers, mountain bikers, and day trippers. It is an achievable objective for inexperienced groups, especially young children, in a beautiful and wild valley. The current large communal bunk rooms are not best suited to this type of user so we are proposing to change the layout to several smaller bunkrooms to aid family groups. A booking system was also introduced 3 years ago and is very popular with family groups. We now have reports of local families and groups of children heading to Aspiring Hut for birthday party weekends. We believe that the upgrades and layout changes will encourage even more locals and family groups to venture up to Aspiring Hut.
Environmental
For a number of years now, Aspiring Hut has been used as an accommodation base for the Matukituki Charitable Trust, which undergoes trapping and pest control in the valley. The Trust has had a lot of success and there is now greater birdlife in the valley than ever before. The upgrade will allow their volunteers more privacy and provide more adequate storage options for their gear, further supporting this important work.
Lynchpin asset for the alpine huts
The Club also owns two alpine huts in the Matukituki area – French Ridge Hut and Colin Todd Hut. These are smaller alpine huts used by climbers and alpine trampers. These high huts rarely break even due to the high costs of maintenance and flying out waste. The income from Aspiring Hut also secures the future of these alpine huts.
The Backcountry Trust showed foresight and applied for Aspiring Hut to be included in its application for the Covid relief fund Kaimahi for Nature and secured funding for Aspiring Hut upgrade work in 2020.
NZAC, BCT and DOC have collaborated over the last year and developed advance concept plans and carried out an initial budget costing for the refurbishment.
BCT GM Rob Brown provided material input to the hut refurbishment concept and building strategy. His advice was adopted by John Cocks and Derek Crombie for NZAC and the groups jointly engaged Red Gecko Architects (Kat West and Bruce Dowrick) to prepare concept plans. This work was paid for by BCT.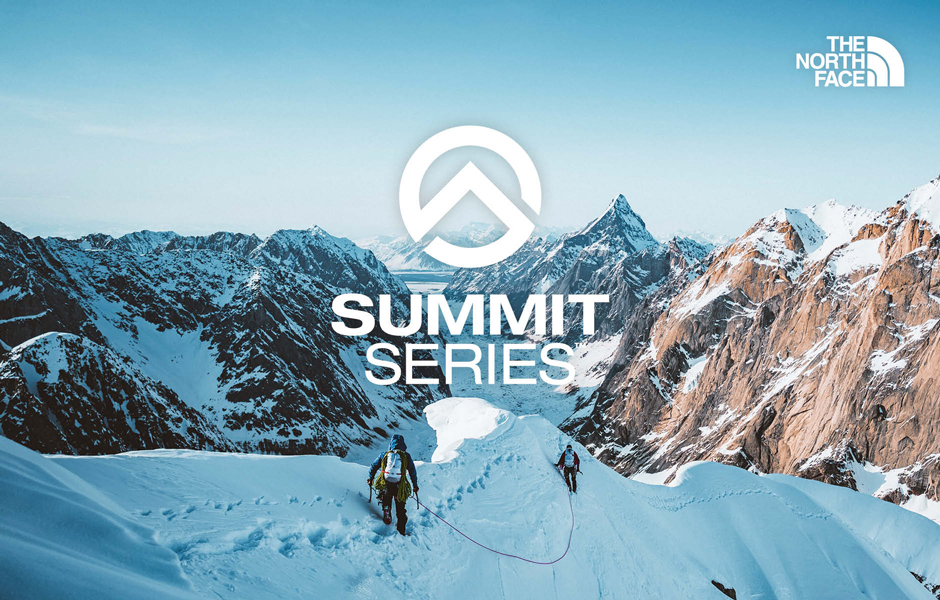 With the cost of building growing and a finite time available to use the Kaimahi for Nature funding, the newly formed Tūpiki Trust came on board as a partner in June 2022. They quickly showed their support for the project with a grant of $200,000 to support the refurbishment. They are also actively fundraising to help fill the fundraising gap and ensure the success of the project.
Design Concept
The design has been based around retaining the historic stonework of the existing hut but building a new structure inside the shell and expanding it slightly to provide a more sleeping area.
A relatively new building product called Cross Laminated Timber (https://www.xlam.co.nz/) was proposed by BCT and this reduces the site assembly time to about one week for floor, walls and roof. The timber framing is solid 100mm or 126mm timber laminated into large panels that are factory assembled and joined together on site with no further fitting required. The panels are used for the floor and roof structure as well as support for the stonework walls. Normal roofing material is used over the top of the panels and the internal surface is suitable for painting without Gib or other lining so it is very durable. This method reduces the site building time to about 15 weeks and negates the need for plasterboard – a win win!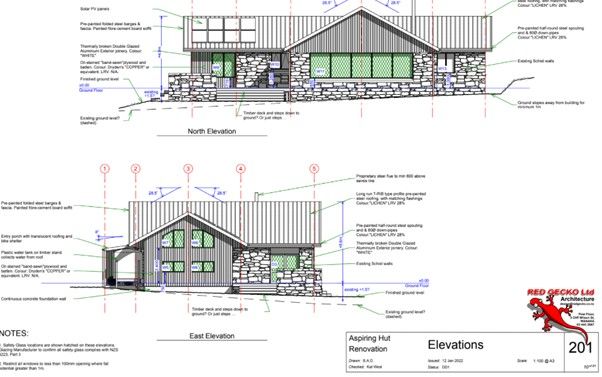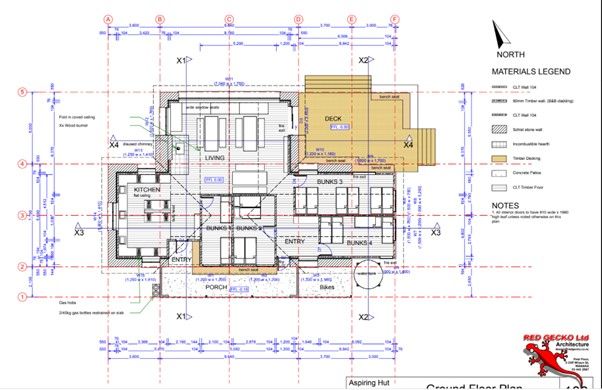 A Quantity Surveyor has prepared an initial budget based on the current design and the Club is now entering into contracts with various contractors and suppliers.
Costing assumptions:
Estimate based on current plans
Site conditions and existing stonework are sound
Consents will be secured from DOC, QLDC, BCT and NZAC to enable construction in 2022
Build period of 15 weeks- Sept to December incl
Costs are normal building rates and exclude any voluntary time or material contributions
A 10% contingency sum has been included.
The current estimate for the project sits at approximately $1.1 million.
Funding
The Club has secured the following funding:
BCT (Kaimahi for nature) $350,000
Tūpiki Trust $200,000
NZAC Aspiring account $150,000
Otago Community Trust $100,000
FMC Forest and Mountain Trust $20,000
TOTAL $820,000
Fundraising needed $280,000
The Club hopes to raise the remainder from fundraising and grants. There is also the provision for the Club to contribute more funds from the Club Development Fund and request loans from members, as has been done in the past.
How to get involved
The Tūpiki Trust has launched a fundraising campaign as one of our main partners in this project. You can donate to the project via the Tūpiki Trust

here

. As the Trust is a registered charity you can apply for a tax rebate on any donations. (tupikitrust.org.nz/news)
NZAC are collecting donations through our Hut Fund. Click

here

to donate to the Hut Fund. NZAC no longer has donee status so you will not be able to apply for a tax rebate
Spread the word! This is not just an Alpine Club project and will benefit the outdoor community as a whole. Please tell your friends, family and businesses that you know. We would be very pleased to receive any help or sponsorship.
Volunteer. The project is going to be mostly done by contractors as the timeframes are tight, the building materials technical and the health and safety tricky. However, there will likely be some roles for volunteers as 'camp caretakers' and some building projects later during the fitout. If you are keen to be involved and could commit to a week at a time please get in touch with Karen (

[email protected]

).