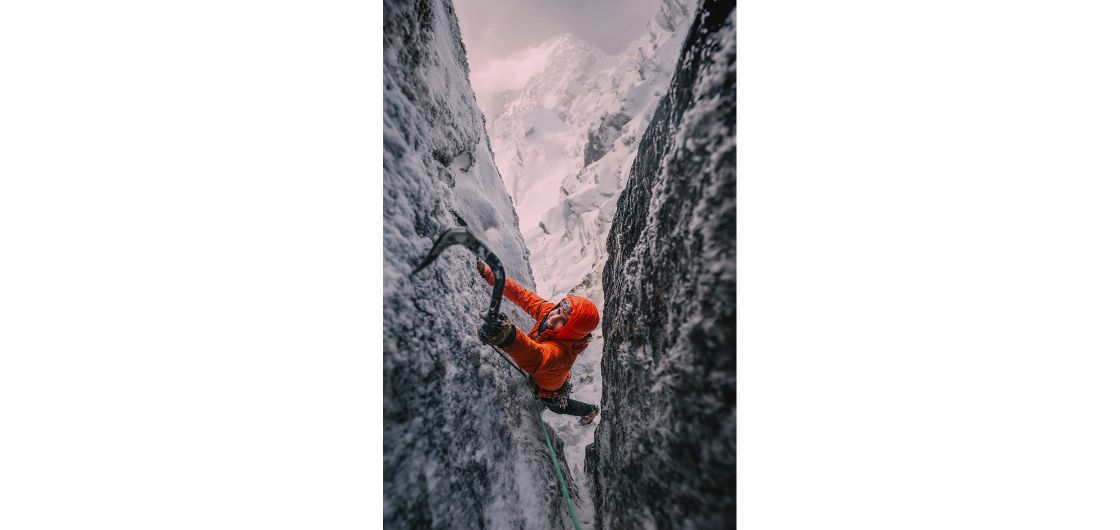 NZAC Photocomp 2022 - Alpine Activity
Judging is now complete on this year's NZAC Photo Competition. Keep your eyes on this site over the rest of the week as we announce the winner of each category, with the overall winner to be announced at the end of the week. 
The winner of the Alpine Activity category for this year is the image shown above, by Adam Flower. It shows Ted Bannister-Sutton grovelling through the second squeeze of Sgian Dubh, a mixed climb in The Remarkables.
'A powerful composition and structure along with a minimal colour palette give Adam's image a distinctive and memorable appeal that would not be out of place on a cinema poster. The toning is tasteful and creative use of aperture draws the eye to the climber's grimace. Or is it a smile? Photos that prompt questions invite the audience to linger. While images of climbers seconding tend to lack the sense of tension of climbers leading, this photo makes up for that with a scene so striking the rope is all but forgotten.' Judge Mark Watson.
Adam wins a Hubba Hubba 2 tent from MSR.
There were five honours images awarded also, they are shown below. Congratulations to Adrian Camm, Jonathan Coppi, Eugene Yeo and Derek Cheng who were awarded for images in this category. They win prizes from Black Diamond, RAB and Potton & Burton. These images may appear in the NZAC Calendar 2023, so keep a look out for that when it becomes available before Christmas. Thanks again to the photo competition judges Simon Waterhouse, Mark Watson and Dennis Radermacher.