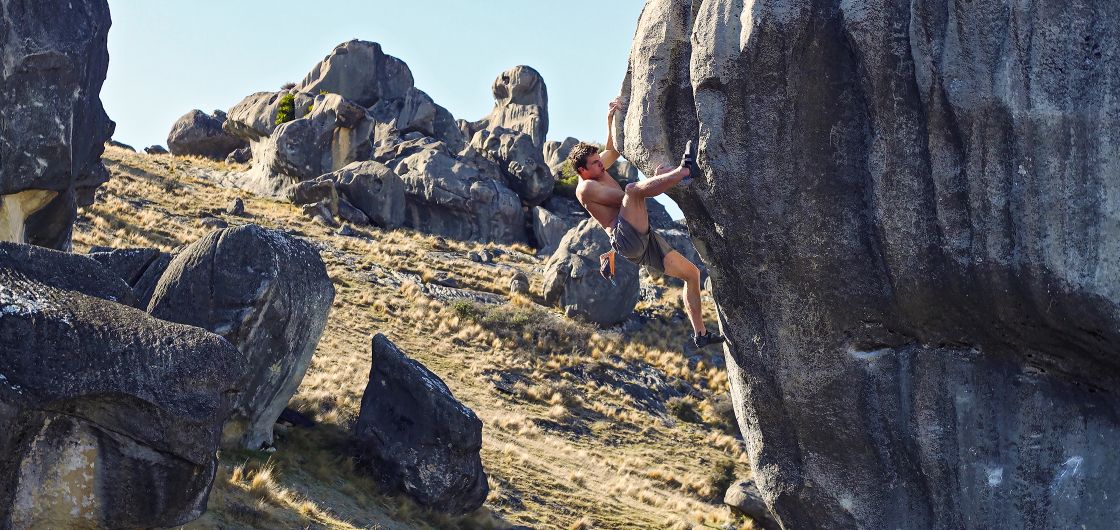 Castle Hill Basin Action Log #3
25/10/2022
By Scott Jury
With the bouldering season coming towards an end for another year, psych was high for dispatching last-minute projects. With the residency of 'The Three Musketeers' (Alec McCallum, Isaac Buckley and Matt Corbishley) out at the village, projects have been falling to their will—with each of them completing a V13 first ascent in the homestead during spring.
Since my last update, Alec McCallum made the first ascent of the long standing Spittle Hill mushroom project  Psilocybin (V13), as well as the first repeat of the baller line Solaris (V13) at Flock Hill. In Dark Castle, Big Al established another new bold 'boulder problem' Taking Tiger Mountain by Strategy (V7); top-roped and deemed too difficult for climbing decades ago, this climb had apparently been considered for chipping! As luck would have it, this idea was forgotten about and it now stands as an impressive slab/mental testpiece for climbers today. (A video of the ascent can be found here.)
Isaac Buckley continued his glory days, establishing a new hard rig in Quantum Field - A Love Supreme (V13), as well as repeats of The Dark Side (V11) and Franco Columbo (V11). Isaac also recently established one of the hardest 'trad' climbs in the country - O Brother, Where Art Thou (30) at Prebble Hill.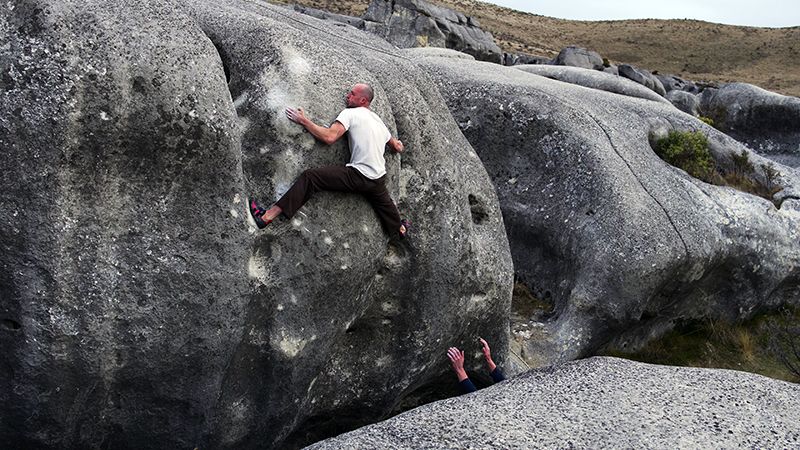 On the comeback from a pesky finger injury, Mathew Corbishley recovered to quickly keep up with the other musketeers, with repeats of The Rad Dyno (V12), Everything's Gone Green (Low) (V12) and the second ascent of A Love Supreme (V13). Corbish also managed to ascend the Full Monk (V13) project in Quantum Field.
'The Three Musketeers' still found the time for fun, accepting the 'Big Day Out' challenge. Rules were simple - you had to climb a three (or more) star V6 (or nearest available quality or grade) in each of the nine fields and no driving between each field. With over 12km of walking ahead of them, the trio started the challenge in Spittle Hill, with an ascent of either Mantlemania or Vaseline (Mantlemania was damp, so two of the three had to settle for the latter). Quantum was next with an ascent of Midnight Milk. This was followed by one of their new additions to Dark Castle - Orchestral Maneuvers in the Dark. Origami was an obvious choice for the team at Wuthering Heights; after conquering their first sloggy hill for the day, the lads opted to take a quick midday rest at the McCallum household in the village. After their rest, Prebble Hill was next with Love is the Drug, followed by Ego Death and Baby Food in the neighbouring fields—Gorge Hill and Cave Stream. With the end in sight, the musketeers headed towards Dry Valley for That Problem with a Really Cool Name, then concluded their day at Flock Hill with Do Wrong by None.
Bazooka Joe (Dravitzki) has continued his rampage this season. Since the previous action log, Joe has made quick repeats of Trifecta Middle (V13), Psychosis (V13), The Vatican (V13), The Rad Dyno (V12) and The Iron Curtain (V11).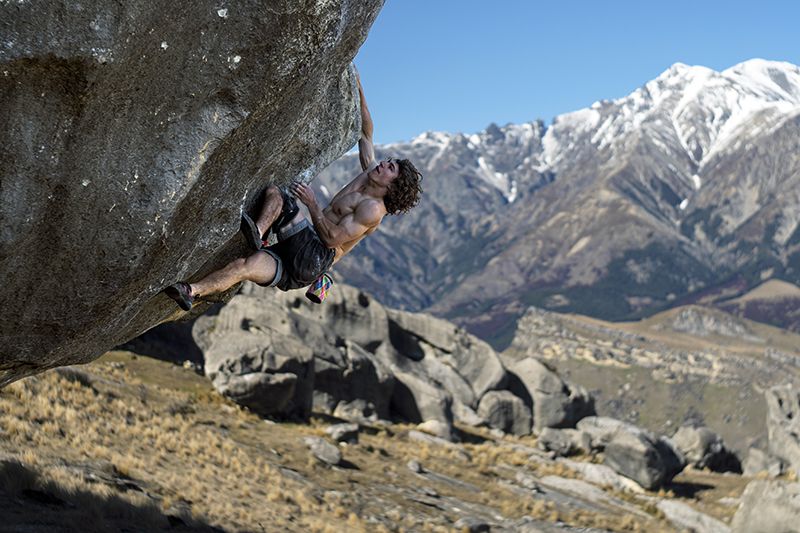 Tom Waldin made more quick double-digit ascents with the second ascent of Departure in Time (V11), Demolition Man (V11) and Franco Columbo (V11).
Non-local climbers inhabited the basin too and also managed to nab some repeats. On a short excursion to the basin Tighe McCarthy made a very late season ascent of Psychosis (V13) [side note: Psychosis went unclimbed since Derek Thatcher's first ascent in 2009, last year saw its first repeat, and with the level of really strong climbers lately—this year it has seen three repeats]. On short uni breaks, Erica Gatland managed to quickly send Petit Font Assis (V8), The Final Cut (V8), Shortwave Memories (V7), The Day the World Stood Still (V6) and a flash of Ice Age (V7). Oskar Wolff made quick repeats of Gisele Bundchen (V12) and Achilles Last Stand (V12) [which you can see here Castle Hill Sends 2022].
***
Many new additions have been scrubbed up in the basin for your pleasure.
Once Flock Hill reopens next season, you might want to check out: Shortwave Memories (V7), Eye in the Sky (V3), Champagne Problems (V3) and Don't Dance Too Close to the Vinyl (V8).
But in the meantime, there are plenty of other freshly cleaned climbs for you to try at the Homestead. In Spittle Hill, look out for King of Cards (V8), The Cobra Effect (V7), Piccalilli (V4), Below the Law (V6), Column of Fire (V10) and Sure Shot (V6). At Quantum Field there's Pupurangi (V10), Misanthrope (V6) and Creature of Habit (V7).
You may also find at Prebble Hill (Teapot) lots of new climbs cleaned up and added to the basin website, thanks to the efforts of Isaac, Matt, Alec, Erica and friends. Some to look out for might include: Isaac the Forge Master (V7), Joko Homo (V2), The Wise Wound (V3), The Palms (V2), Tainted Love (V4), Spirit of Nootka (V9), Multi-Love (V5), Ulterior Motive (V6), Paradise Circus (V3) and  Clement Sees Strange Creatures in Coloured Grass (V4).
Main image: Alec McCallum makes the second scent of Solaris (V13). Photo: Isaac Buckley