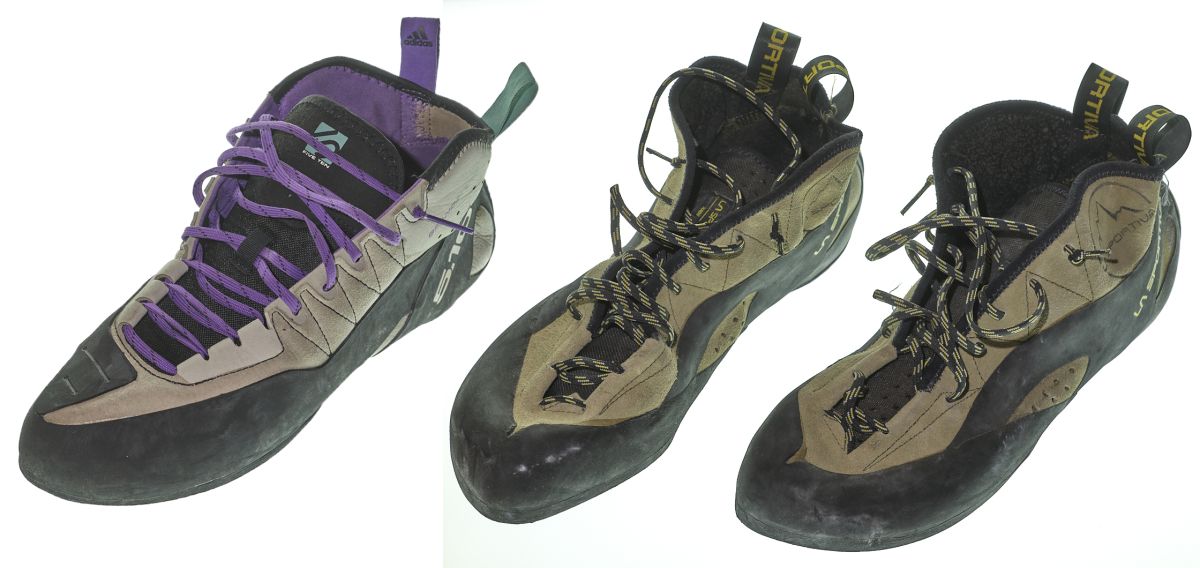 Five Ten Grandstone vs TC Pro Review
La Sportiva's TC Pro rock shoe is well-established in the market. As the pro model shoe of Tommy Caldwell, modern legend of Yosemite climbing, this rock climbing shoe arrived as a no-apologies, Big Wall specific climbing shoe. Somewhat surprisingly, it was a big hit. It probably helped that it became Alex Honnold's footwear of choice on his long solos, and was worn by Tommy Caldwell on exploits as well-documented as the Dawn Wall first ascent. This kind of coverage meant 'Trad Dads' across the States all needed a pair, while legit and wannabe trad climbers all over the world also adopted the shoe due to its unique set of characteristics. Apparently this shoe has spent quite a few years as La Sportiva's best-selling rock shoe.
While race-car inspired sport climbing shoes remain the most-desirable items on the climbing shoe market, anyone who's tried to climb an eight-pitch route in a pair of tight and sensitive high-performance shoes can attest to the associated foot pain. Most big routes are relatively low-angle, at least compared to the sport climbing cutting edge, and this requires a different style of shoe both for lasting performance and for comfort. Climbing any kind of multi-pitch route involves wearing your shoes for long spells, even if you are able to remove them when belaying and abseiling. The low-angle nature tends also to be more footwork intensive, or at least involves putting a lot of your weight through your feet for a lot of the time. Your feet need support and protection to avoid turning your fun multi-pitch adventure into a torture session. But, you are still there to climb, so you need a reasonable level of performance.
This is the niche the TC Pro has come to completely dominate. When it arrived on the market in 2010, some wrote the shoe off as a throwback retro design. Its high ankle shape and flat profile is reminiscent of early 'rock boots', but it turns out those old-school shoes looked that way for a reason. Let's be honest, the style of climbing on most multi-pitch routes is rather old-school, so it does make sense. The high ankle design is there to protect your ankle bones when you stuff your feet into large cracks and the flat profile works best for edging and smearing on low-angle terrain, requiring less deforming of the shoe than something with a radically down-turned shape. The other features of the TC Pro are a particularly stiff sole, a cushioned and breathable tongue, as well as a protective lacing system near the toe. This latter feature avoids chronic abrasion of the laces when stuffing the shoe into cracks, a welcome feature adding considerable durability to the laces over the life of the shoes. The tongue is unique and does add comfort to the shoe, though its added bulk does contribute to fit issues across the forefoot for some people—as it can bunch or roll when the shoe is put on.
The stiff sole is a slightly more controversial aspect, and one that not all agree on. On one hand, a really stiff sole provides support that reduces foot fatigue over a long day of climbing, as well as the ability to edge on tiny granite crystals and serves to protect your foot when camming the shoe into a crack. Some have referred to the TC Pro as 'crampons for granite', based mainly on this aspect. On the other hand, the stiff sole conforms less to the rock surface when smearing, vastly reduces sensitivity through the shoe and for some causes arch pain—as it doesn't conform to fit the natural shape of their feet. La Sportiva state that the shoe is supposed to be fitted larger than a sport climbing shoe, as the stiff sole doesn't require as tight of a fit on the foot to keep a strong shape. This makes sense. In fact, most fans of this shoe that I've encountered insist the secret is to buy it much bigger than other shoes and this allows the shoe to edge decently but also smear (after a considerable wear-in period).
Unfortunately for me, I wear the largest size that La Sportiva make in their rock shoe models, an EU 46. This means that my particular pair of TC Pros have a tight, performance fit, which does not allow for smearing. I also find the last of the TC Pro to be quite narrow across the forefoot, this coupled with bunching up of the tongue on the large knuckle of my big toe means they aren't the comfort model I was hoping for on purchase. Any shoe of this style is going to have a long break-in period, so it is very difficult to tell out of the box if it is going to work for you without putting a bit of time and pain into making it your own shoe. I've been through that process and discovered that if, like the manufacturer suggests, I could go up a size, it would be a great shoe for its intended purpose. The shoe is designed to be an all-rounder, replacing the need for big wall climbers to carry a performance shoe and a comfort shoe up the wall. Sized like a normal (tight) climbing shoe, my experience has been that it is in fact a very niche model. If I wanted to stand on a small edge for the maximum possible amount of time, this is the shoe I would use. For all other climbing manoeuvres, I find better performance (and even comfort) in a softer shoe with a similar fit, plus I can feel what I am doing. I can't compromise being able to smear on a long, low-angle route, so for me the TC Pros have never been of much use as a multi-pitch shoe. But I should reiterate that I am unable to go up a size and many, many climbers get along with this shoe when sized with a roomy fit.
Further to this, in 2021 La Sportiva revised the TC Pro with a paint job and minor alterations. I like the splash of green on what was previously a boring-looking shoe and who can argue with stylised embellishing lines in the shape of Freerider and the Dawn Wall? More significantly, La Sportiva reportedly made the shoe a little larger in each size, so now maybe people can even buy their normal La Sportiva size and get a shoe that works like it is supposed to! I haven't tried one of the new versions, but reports that the toe box also got narrower (they say 'more technical') perhaps means I still wouldn't get along with the shoe. Other changes include a rand modification for increased longevity and modification to the tongue to avoid the bunching issue (sounds promising). They've also changed the uppers to 'eco leather', which avoids the use of heavy metals in the tanning process. Anecdotal reports suggest this leather holds odour a bit more than the previous, but also stretches slightly less. This latter point should again help people with sizing the shoe appropriately, they are a little larger out of the box than the previous model (at least length-wise) and also won't stretch as much, so you should be better placed to tell if it will work for you when trying on a new one.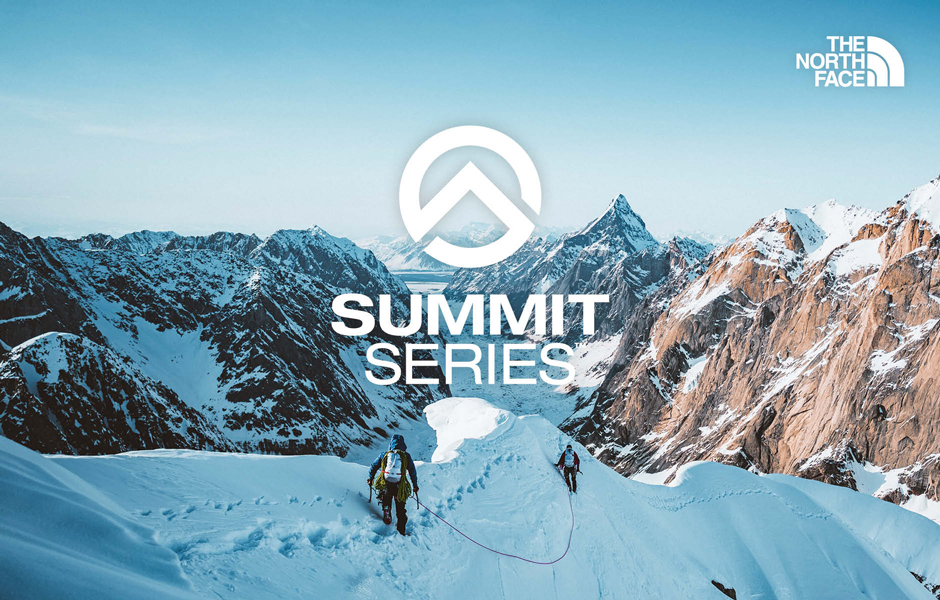 While these improvements tempted me to try a pair, the little use I'd gotten out of my original pair of TC Pros made it hard to lay down more cash on what is quite an expensive shoe by rock shoe standards. Nevertheless, I climb enough multi-pitch routes that I can make use of a specialist shoe for this purpose, rather than just wearing a really old and stretched pair of a flat shoe (Pink Anasazis or Newtons in my case). So, when Five Ten launched their new Grandstone model in 2019, I was curious to try a pair (other brands like Evolv and Boreal were also prompted by the success of the TC Pro to make their own 'high top' models). The early reviews highlighted that this design was much less stiff than the TC Pro, which tempted me further and when I eventually was able to find a pair in my size at a reasonable price last year, I decided to give them a go.
The sizing was still a gamble, as I couldn't get these to try on in New Zealand and, like the TC Pros, my only option was to get the same size as other Five Ten models (US13). My immediate impression when trying on the Grandstones was that this was a much more plush shoe than the TC Pro. The softer sole and marginally more aggressive profile was more familiar to my feet and although they were still sized quite tight, the padded uppers and cushy micro-fibre interior lining immediately offered a sense of comfort I never found in the TC Pro. They still took a bit of breaking in, but I quickly found them to be a good shoe for warming up on lower-angled routes. After a couple of sessions, they were worn in enough to wear on routes without compromising performance, but to get the cushy fit I was after for long multi-pitch routes took a while longer. However, I found them to be capable allrounders and sensitive enough to happily wear as a general use shoe without feeling like I was sacrificing performance just for the sake of wearing them in. I even wore them bouldering at Uprising, though when things get steep you notice the difference versus a softer and more downturned shoe much more.
I'd say as a general comment that the Grandstone feel slightly clunky compared to a more performance-oriented lace up, but not prohibitively so. I think, therefore, that the intended design concept has been well-executed in this shoe—in that there is a minimal amount of performance trade-off in order to gain a bit more comfort, protection and all-day support. For my sizing and foot shape, the Grandstone works better as an allrounder than the TC Pro as it still edges well, it smears with less breaking in, has considerably more sensitivity and allows the full spectrum of footwork manoeuvres with confidence. Part of this difference comes from the rubber, as especially on lower friction rock types, Stealth C4 rubber is stickier than the Vibram compound on the TC Pros. Nevertheless, the TC Pros will allow you to put more weight through a tiny granite edge without the rubber deforming or tearing. The remainder of the performance difference comes from a softer midsole and slightly less flat, more downturned profile.
These aspects aside, the shoes are very similar and offer equivalent features and performance. They share the breathable tongue, the low-profile toe box, high-top ankle protection and hidden lace design at the toe. If your feet sweat during long climbs like mine do, the absorbent micro-fibre lining of the Grandstone is superior and doesn't start to feel slimy after multiple pitches. Five Ten used to come with the caveat that they performed very well but had questionable build quality and a limited lifespan, but the Grandstone seems well made and after a fair amount of use my pair shows no sign of falling apart. 
People who love the TC Pro will likely stick with the known entity, but if you never got on with that shoe then the Five Ten Grandstone is an able alternative and well-worth a look. Unfortunately, Five Ten being the company they are, there are reports this shoe is discontinued already, which I only discovered while putting this review together. Launching it right as the pandemic hit probably didn't help, but this seems a bizarre move for such a good product. Then again, they did the same thing with many well-regarded shoes in the past, the Dragon, the Quantum, the Pink Anasazi, … I could go on. If I can find a new pair in my size I will try and stock up. 
-By Tom Hoyle
***
Bonus second opinion review by Felicity Thomas
I once cried on a long multi-pitch climb in the sun because my toes hurt so much. I still had three pitches left to climb. I was wearing a pair of Tenaya Ra's and while I continued to use them for sport climbing, I never took them multi-pitching again. Instead, I opted for the cheapest, two-sizes-too-big pair of Millet climbing shoes I came across discounted in a store in France. They were great for hanging belays, abseiling, easy scrambling, and even walking around—80 per cent of what multi-pitch climbing is about—but they were terrible climbing shoes. Since then, I moved on to Anasazi Pinks for sport climbing and using a resoled half-size-too-big pair for multi-pitching. These have only led to a slightly better experience than the Ra's, probably due to New Zealand's lack of long, easily accessible multi-pitches more than the shoe being better for the job. Questing for a pair of shoes more akin to my Millet pair, but ideally with better climbing capability, seemed like asking too much. However, I took a punt on a pair of Grandstones, mainly because they were purple. I brought them in a 7.5 US, a half size bigger than my sport climbing Anasazi Pinks, however they feel like a full size bigger and if I was going to buy them for performance I would probably buy a US6.5.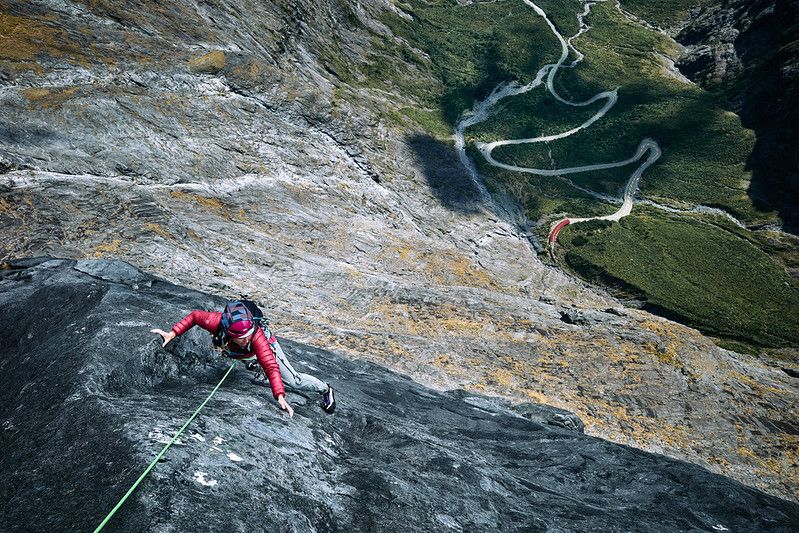 My first impressions weren't that great, mainly because the upsizing made them feel sloppy and unsupportive compared to my perfectly worn in Pinks. However, after some time in them I really appreciated the asymmetrical toe box (I have a monster big toe compared to my little toes), as in the Pinks I end up with a huge and sometimes sore lump  on my big toe knuckle from cramming my big toe in on a slight angle. The real test for all day comfort with the Grandstones was taking them on a Lucky Strike (20, 7 pitches, 275m) outing. I did not take them off at a single belay or to rappel and they felt great on the smeary-slabby grippy-granite romp. I even tied them up extra tight for the crux two pitches to try and make them feel as accurate as possible. Noting that I am only a high teens/low 20s climber, so the two grade 20 pitches were near at my limit.
Overall, I am super impressed with their comfort and performance for multi-pitching and think I would even consider buying a smaller pair for cragging, when I inevitably have to replace my Pinks (which Five Ten have also discontinued and replaced with the much-different-fitting NIADS).