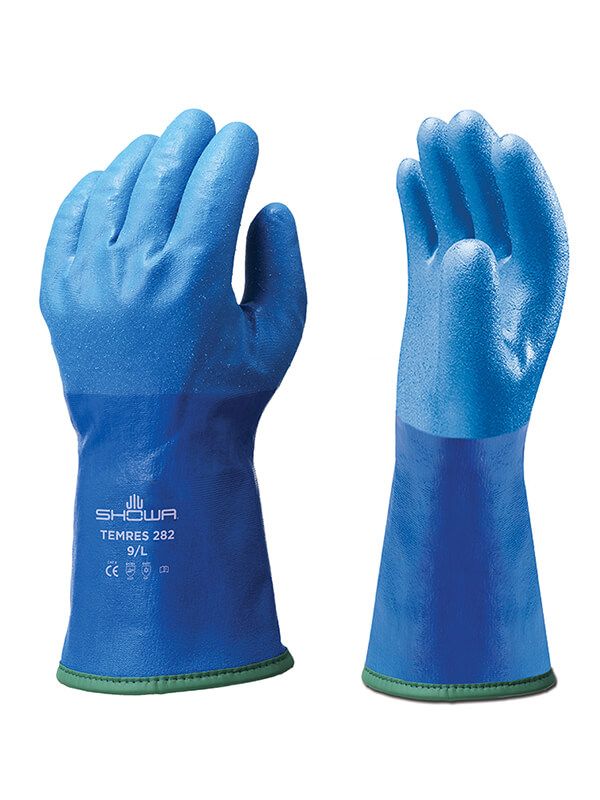 Showa TEMRES 282 Glove Review
The Showa TEMRES 282 gloves have recently gained something of a cult following. Designed for commercial fishing in Japan, it turns out that many of the demands of mountaineering and fishing cross over—warmth, dexterity and waterproofness. I recently bought a pair and used them for a few alpine routes on 3000m peaks around Fox Glacier and can confirm: the Showa TEMRES 282s deliver all three. Too good to be true?
The gloves are very simple-a polyurethane shell with a thin acrylic fleece inner, which is bonded to the shell. The outer is rubbery, with a speckled surface to improve grip. It is engineered to be more breathable than plain rubber washing up gloves, which is apparent as they do not get as sweaty inside as you'd expect. The inner fleece lining provides just enough warmth for most climbing situations—except in a very cold climate.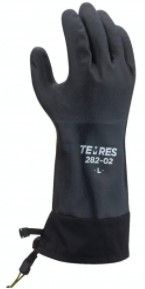 The first iteration came in blue, as shown above, and many users wished for a gauntlet to keep out snow.
Showa listened, and the TEMRES 282-02 now comes in black with an elastic gauntlet cinch.
These gloves are much more durable than I expected. After using them for several weeks on a few high alpine routes, ski touring, and thrashing around on Darrans tussock I see almost no sign of wear. I used these gloves for everything from approach, to belaying, leading and descending.
After a lot of abseiling, you will start to wear through the palm of these gloves—unless you are careful with use of the backup prusik on the rope.
The fit is close around the fingers, and since the fleece liner is directly bonded to the shell there is minimal slippage between the layers like you see in other gloves with waterproof membranes. The dexterity is good enough for lead climbing, placing ice screws, cams and even clipping the smallest Edelrid 19g carabiners.
At only 115g, these gloves are superlight. They also stay light, since they don't get wet—think how heavy a saturated pair of gloves are.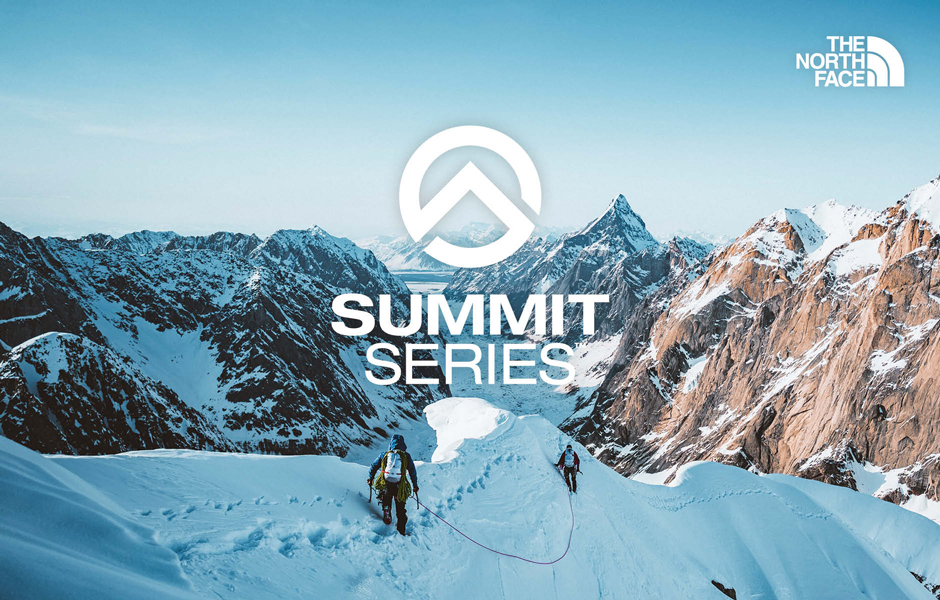 These aren't the glove for everything. They struggle to climb on rock beyond basic scrambling. For very hard alpine or mixed climbing you may need to grab some snowy holds and the rubber does not provide that sticky grip you can find in a more specific climbing glove. For hard pitches, I would use something like a Macpac Dash glove.
For cold, featured, ice climbing you often bash your knuckles on the ice. Ice climbing specific gloves or warmer leather gloves have more knuckle protection.
In very cold temperatures, the TEMRES 282s may be too cold. In this case you could try buying a size larger, cutting out the built-in liner and wearing a thicker fleece glove inside.
Other elite alpine climbers around the world have been using the TEMRES 282s and they are starting to catch on in North America. Here is a collection of what other people are saying.
Colin Haley: "They are more waterproof than any other gloves I've used for climbing… and the best warmth/weight ratio of any glove I've used. They also are INCREDIBLY durable… In Japan they are used by 'all of the Japanese winter climbers', or so I was told in Kahiltna Basecamp by two Japanese climbers who were wearing the same gloves!"
Alpine Savvy: "You may have heard the car mechanic's saying: 'You can have it fast, good, or cheap. Pick two.' It seems gloves usually work the same way; There needs to be some sort of compromise along the way. Happy surprise: the TEMRES 282s deliver on all counts."
Kyle McCrohan: "Climbing demanded dexterity. Storm skiing needs water resistance. Aerobic activity needs breathability. I developed 'systems' of gloves: multiple gloves that worked together for a particular activity and condition. But multiple gloves are expensive and heavy. Enter the Showa TEMRES 282 gloves, the quiver killer."
The Showa TEMRES 282s are an excellent glove for general mountaineering and ice climbing (in all but the coldest of temperatures) and even other uses like tramping in the rain or packing down a tent on a cold/wet morning. These gloves excel in wet snowy conditions where other gloves would quickly wet out and become cold. 
Be aware, these gloves size small, so get one size larger than you would normally. I usually wear a medium glove and fit the large in Showa gloves.