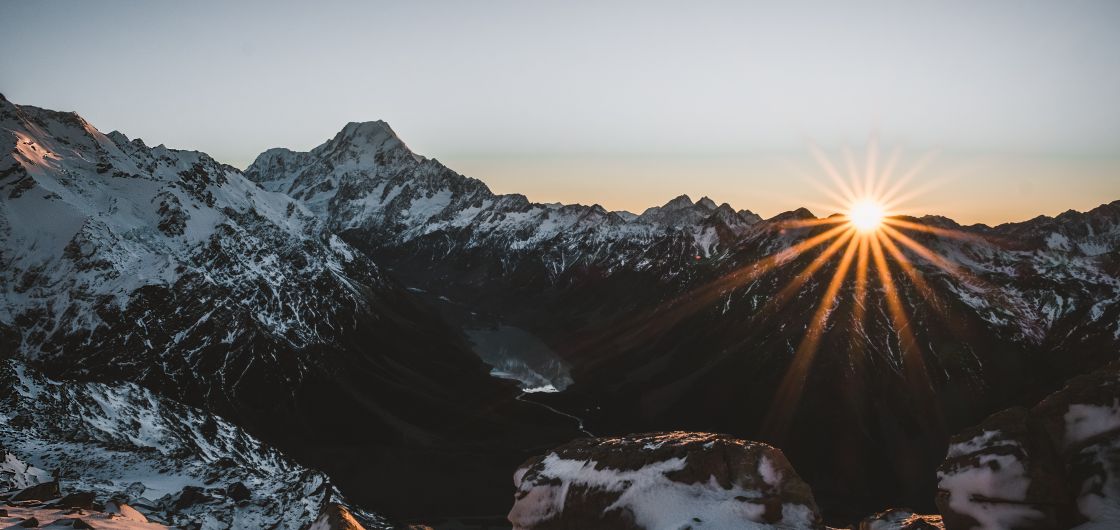 Life and Honorary Members 2022
Two Honorary memberships and five Life Memberships have been awarded in 2022.
Honorary Memberships
Tā Tipene O'Regan ONZ
Long serving Chairman of Ngāi Tahu Trust Board, Tā Tipene was instrumental in the Ngāi Tahu Claims Settlement of 1998. Awarded a knighthood in 1994, this year Tā Tipene received both the Order of New Zealand, our highest award, and New Zealander of the Year.
Tā Tipene O'Regan is perhaps best known for leading the Ngāi Tahu Claim process though the Waitangi Tribunal, culminating in the 1988 Ngāi Tahu Settlement. In addition to providing a framework which recognised the relationship of Māori to their land, this agreement specifically acknowledged the importance of Mt Cook to Ngāi Tahu and returned ownership of the mountain to them.  
With the guidance of Tā Tipene, the mountain's name Aoraki was formally reinstated and the maunga was gifted back to the people of New Zealand.  This award of honorary membership of the New Zealand Alpine Club is our formal acknowledgement of the importance of that gift to the climbing community.
We would also like to recognise the value of Tā Tipene's long established scholarly interest in the history and ethnology of Ngāi Tahu and Te Waipounamu. The Cultural Mapping Project developed from that interest and led to the creation of Kā Huru Manu. This outstanding resource is changing the outdoor community's perception of the places we journey through, and we would like to take this opportunity to thank Tā Tipene for his leadership of this project and for his gift of that knowledge to us as climbers.
Daniel Joll
Daniel is a passionate alpine climber based in the Chamonix valley. He travels extensively, making multiple expeditions to North and South America, Europe, Africa, and Asia. Daniel has helped establish some of New Zealand's hardest climbs, summer and winter, with multiple ice and mixed routes of high grades in areas such as Mt Cook, Fiordland and the Remarkables. He also enjoys all forms of rock climbing making multiple trips to the alpine rock and big wall destinations of the world such as Patagonia, Bugaboos, Yosemite, and Chamonix.
In New Zealand, Daniel has helped establish long and challenging rock routes in the Darran Mountains of Fiordland most notably on the Kaipo Wall, the South Face of Marian and the imposing Airport Wall at Piopiotahi / Milford Sound (the video is on the NZAC website). Some overseas ascents include a free ascent of Free Rider on El Capitan, Cerro Torre via the Ragni Route, North Pillar of Mt Fitz Roy, North Face of Cholatse, North Face of the Grandes Jorasses in winter via the Walker Spur (18 hours), Colton McIntyre and Croz Spur, a winter ascent of the North Face of the Eiger, onsite one day ascents in winter of the North Couloir Direct and Lesueur on the North Face of Les Drus. Earlier this year Daniel was part of the team that made the second ascent of Changabang's legendary west wall, 46 years after the first ascent and with a significant variation to the original Boardman-Tasker route. This alpine style climb has been hailed internationally as a major breakthrough in Himalayan climbing (click here for our article). 
Daniel is founder of the Expedition Climbers Club and the New Zealand Alpine Team whose stated goal is a 'desire to support and encourage aspiring young Kiwi alpinists looking to improve their mountain skills.' He is a mentor and coach to a new generation of climbers and started the highly successful Remarkables Ice and Mixed Festival which is now a major annual fixture in the New Zealand climbing calendar. 
Life Membership
Anne Todhunter nee Palmer
Anne has been a member of the NZAC since 1992. Anne and husband, Philip Todhunter own Lake Heron Station, Lake Heron Air and are partners in Methven Heliski. Anne is a lawyer by training and has been an IFMGA guide but is no longer high guiding.
In the 1980s and 1990s Anne was active in the Aoraki / Mt Cook area and elsewhere. She was Chief Guide at Aoraki for the 1993 and 1994 summer seasons. While there had been female guides in earlier eras, in 1991 Anne became one of only a very few fully IFMGA certified female guides internationally and the second in the NZMGA (after Jos Lang). Anne was also a very successful sport climber. She competed in the 1991 Oceania Cup and came third place.  Anne is a role model for young women getting into high climbing and taking on the strongly male climbing and guiding culture of that era. She added a new route on South Face Aoraki / Mt Cook, Romeo & Juliet (1987, with Lionel Clay).
Penny Webster
Penny lives in Christchurch. In her interrupted climbing career (due to family) she was a Wellington section and committee member in the 1980s and early 90s, then later joined the CW section in 2010. She served on the National Instruction Committee.
 Extensive trips ​in New Zealand, ​​Chile, Argentina, Europe, India, Nepal, and East Africa. 
Aconcagua​ and​ Everest ​in ​2018.
Most recently, all 24 3000m peaks in New Zealand over 35 years (between 1981 and 2016). She is one of twenty four mountaineers to have climbed all New Zealand's higher peaks, and the fourth woman to have done so.
Penny ​was an elite cyclist, multi-sport athlete and ​adventure racer (in her former life she says), and now enjoys introducing other people to the mountains.
She is an enthusiastic and active contributor to NZAC and mountaineering. In the CW section she actively instructs snowcraft, mentors and provides trips for club volunteers. Penny is passionate about a standardised syllabus in NZAC snowcraft instruction, Penny developed a programme and was a recipient of a volunteer's award in 2017.
Nick Shearer
Nick is a dentist, living in Oamaru and a member of the Club since 1981. Nick is a very capable and successful rock climber, mountaineer, ski mountaineer, and skier. He has climbed with considerable success in New Zealand, Arapiles, Europe, Himalaya, Tibet, Kenya. He is a very accomplished backcountry skier, with numerous ski mountaineering trips in New Zealand including the Symphony on Skis traverse east–west and many ambitious ski mountaineering trips in Canada, Japan, India, Tibet and Europe.  His overseas climbing expeditions include first ascents in the Indian and Nepal Himalaya and Tibet. 
He is a stalwart, energiser, and generous contributor to all North Otago Section activities, serving as chair and section representative for many years. He was NZAC Vice-President 2010-2012. The North Otago Section has about 50 members and Nick provides sustained energy and enthusiasm for North Otago climbing activities His roles include voluntary input establishing, maintaining, developing the Oamaru indoor climbing wall; support for bouldering events at Elephant Rocks and other local venues; coordination of annual Elcho Hut maintenance trip; SAR; organisation and leadership of several trips with North Otago Section members to Himalayan and other overseas destinations. Nick is currently editing anew edition of the  Tititea / Aspiring Region guidebook with Neil Sloan.
Bruce Dowrick
Bruce lives in Wānaka and is a designer/builder/stunt man. He has been a member of NZAC since 2005.
Bruce's primary achievement is establishment of a number of significant crags and routes in the South Island. He has been instrumental in the development of major Darrans crags including Babylon, Little Babylon and Copper Point. He has established hundreds of routes in and around Wānaka and Queenstown.
Bruce has also established significant alpine and multi-pitch rock routes in the Darrans (e.g. Uprising, Charismatic Wall, 560m, grade 24) He has extensive general mountaineering and skiing, and has rock climbed abroad.  He has climbed to high grade standard on trad and sport routes.
Bruce is a founding member of the Wānaka Rock Climbing Club and a key local advocate for climbing in Wānaka. He is a frequent contributor to NZAJ and previously to The Climber magazine.
Gary Brehaut
Gary has been a member of NZAC since 1968, has been a Section Committee member since early '70s and has been Section Chairman in 1974, 1975, 1979, 1980, 2017, 2018, 2019.  Gary has been a section representative in 1975–1977, 1981–1983, organising and leading many section mountaineering courses from 1970s to the 2000s.
Gary has also been an active member of Search and Rescue in South Canterbury for more than three decades and until recently was key liaison between the Police, Department of Conservation and SAR volunteers. He participated in numerous searches both locally and in Aoraki / Mount Cook National Park. 
During the period that Unwin Hut was under the care of the South Canterbury Section, Gary was responsible for bookings, provisioning, and maintenance of the hut. Numerous work parties and firewood days were undertaken by the section during this time.
Gary has maintained and run the section equipment eire since the 1980s and promoted and encouraged the correct use of avalanche transceivers and personal locator beacons.
He has also been the organiser of Banff Film Festivals held in Timaru as section and national fund-raising events.
In the words of Shaun Norman, 'Judy and I would not have remained as Unwin Hut wardens for as long as we did (1975–1986) without the support of Gary. He should have been a Life Member years ago.'
Gary has been an active mountaineer throughout his life, mainly in the Canterbury region of the Southern Alps. With Bill Hood, he made the first ascent of the South Face of Mt Hutton in November 1977.  He has been active in many forms of outdoor recreation e.g. rock climbing, ski touring, skiing, hunting, whitewater kayaking, tramping, mountain biking and alpine photography. Gary also spent two seasons as a mountaineer and field assistant with the New Zealand Antarctic Programme.
When no South Canterbury businesses stocked climbing equipment, Gary filled this role by setting up 'a small shop' in his basement. In this capacity, he equipped and advised many young climbers.
It is not possible to overstate the contribution that Gary has made to New Zealand Alpine Club and the wider outdoor recreation community in South Canterbury.
The committee of the South Canterbury Section unanimously endorse this application for Gary whose enthusiastic, wise leadership has been a feature of almost every section activity over the last 50 years.
Main photo: Alienor Izri 'Let There Be Light', Alpine Landscape category, NZAC Photo Competition 2022