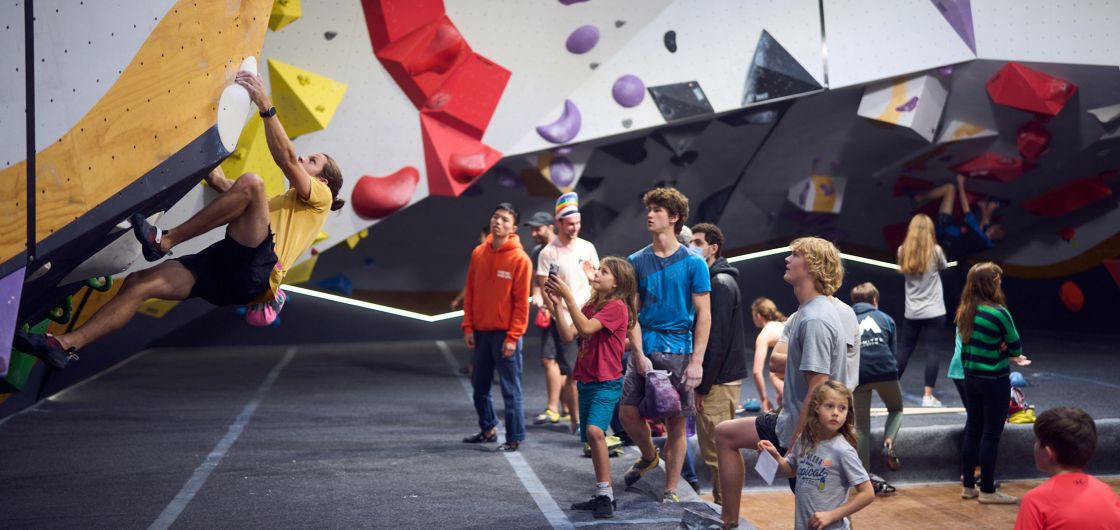 Auckland NIBS Report
-Report by star route setter Christina Rivett.
The National Indoor Boulder Series has been growing in every sense of the word for years, and the second instalment of the 2022 series was no exception. From the participation numbers for an Auckland event, to the number of qualifying boulder problems available for competitors to collect their top 7 points from, and in terms of the space the newest gym in Auckland had to offer—the event was enormous. With 12 zones for each of the five levels of difficulty and minimal overlap of the individual boulders, there was no excuse for the athletes to leave any skin on their fingertips or juice in their arms. If you had your eyes on the finals round, cunning competition strategies to save energy were required.
Oskar Wolff, a regular podium taker, knows the game, but got perhaps a bit too enthusiastic with the abundance of climbs to choose from and even when it was clear that eight black problems would put you in the top five and into the open finals round, he just couldn't stop and proceeded to tick all 12 of the hardest set problems of the day. Cirrus Tan on the other hand, applied next level strategy and teamed up with the head setter to get all the beta benefits he could provide in the qualifier round. NIBS has always been a competition format that allows for the sharing of beta and often collaboration amongst the participants is a big part of the fun, both on the mat sharing attempts and through observations of participants in previous rounds. 
It seems like a winning recipe to make the morning round exclusively for kids and their parents. This way there is optimised opportunity to meet peers from around the country and the prize giving doesn't end up being an all-day waiting event for those in the youth categories, which can be testing for even the most patient of kids, parents and coaches. With 12 problems of each difficulty, there were plenty of problems for even the shortest age group to have a great two hours of trying hard on appropriate difficulty climbs. There is exciting young talent turning up and climbing some of the harder problems, and it is without doubt the most accessible road into competition climbing in New Zealand.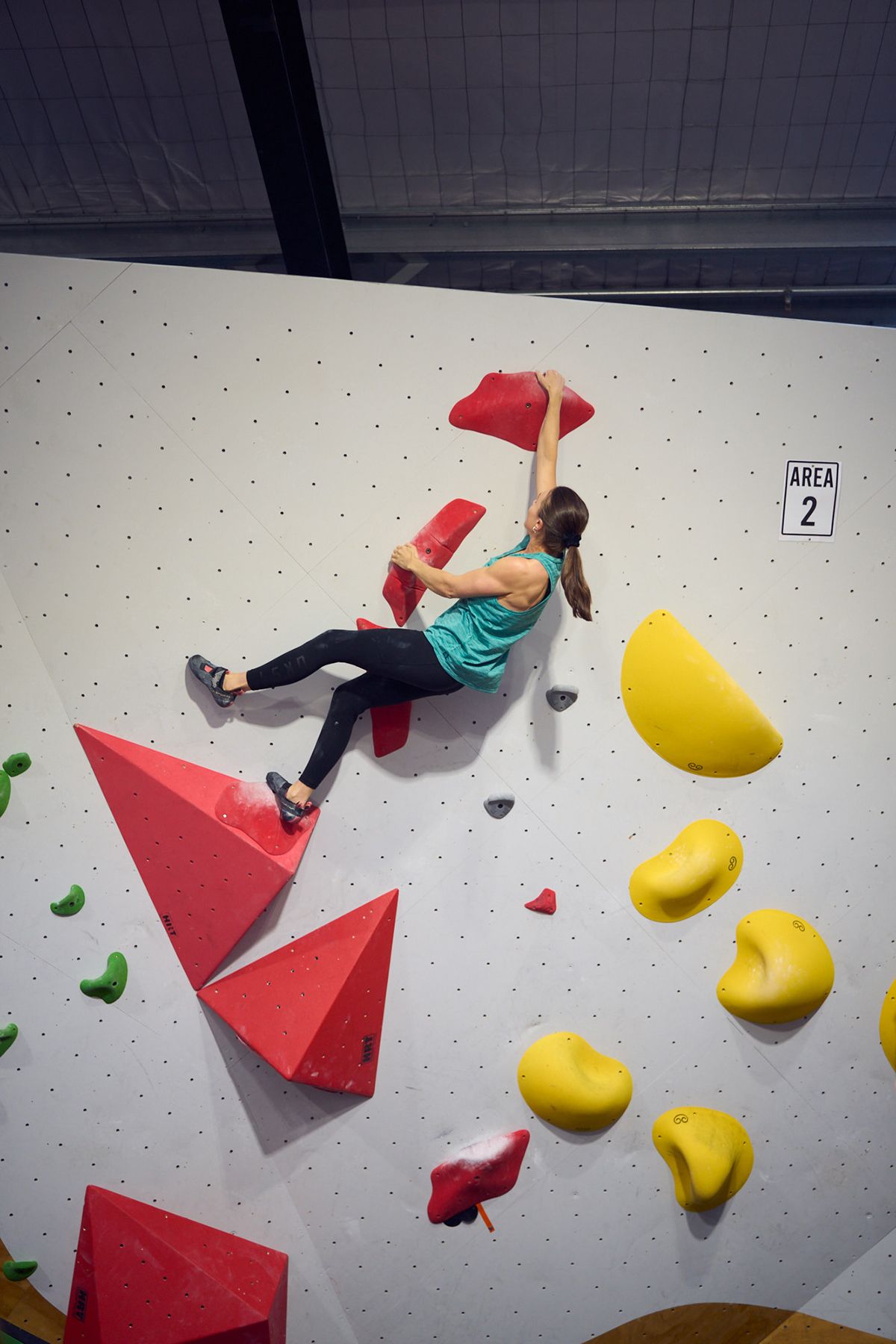 The Open men's and women's category culminate in the evening finals round and though there were no major surprises in who was climbing in these, it is awesome to still see very experienced (do not read 'old'!) climbers from the Masters round making it into the Open finals. Both Sefton Priestley and Sarah Hay can claim this achievement. Sarah Hay perhaps even more impressive—only six months into motherhood and having recovered from a cesarean. Contrastingly, it was also very promising to see 16 years-old Becca Hounsel crush her way onto the podium.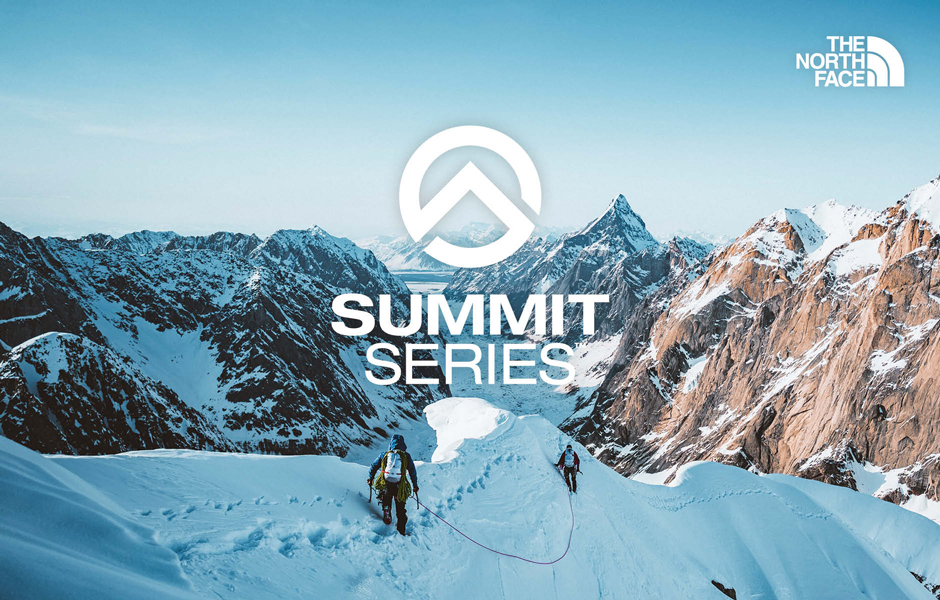 In the women's final, three very different styles of problem saw three different finalists perform best on each. Their first balance-testing slab climb had many attempts, lots of improvement on each attempt and almost two tops, with both Miriam Bright and Cirrus Tan falling at the last hold. Miriam was first out on it and made it look easy. Becca Hounsel was the climber to casually crush the second of the women's problems on her flash attempt. In contrast to the opening slab, this problem was a real power test through the steep overhang. Again, there was a big difference between the competitors' progress up the problem, with different women from the first problem finding success. Cirrus Tan also took the top, shortly after a crowd-pleasing attempt involving of a cut-loose to 180-degree turn and face the audience before falling. 
The last problem proved to be slow and hard to start, with only Paige Murray making it past the slab section onto a more powerful finish with a hard jump into a gaston and press combo. Paige spent a whole three minutes on her first attempt and then her last available minute on her second attempt—causing her to time-out as she attempted to speed climb through the top section. Interestingly, she also timed-out on the first problem, so for Paige the sky's the limit if she hasn't got a time restriction of four minutes.
This gave Cirrus Tan first place, Becca Hounsel second and put Paige Murray in third. As we look at the men's final we can return to Oskar's big effort in qualifications and notice a rare occasion—where he actually started to look physically tired on the last finals problem! But first, the men had a voluminous macro sloper slap-fest through the steep overhang—which Sefton Priestley, Jake Townshend and Oskar Wolff all managed to top, with Oskar and Jake succeeding on their flash go. 
Next up was a coordination-slab-run problem into a hard tension-y finish. This taught everyone that sometimes throwing all the stakes in on attempts to break the beta pays off, as Jake Townshend decided there was a surplus of no less than seven big macro holds on the wall and—with a Castle Hill worthy mantle on to the start hold—saw him skip any modern parkour nonsense and secure a top, Only Oskar was as successful at matching the top hold, but he at least followed the setter's intentions like the rest of the finalists. If there is going to be a break of beta, this has to be the best result. 
The men finished off on a pure power climb, moving between holds on volumes in a steep 3D landscape. There were plenty of opportunities for campusing and big swings, and the number of attempts became the deciding factor, as Oskar, maybe rushing a bit on his first attempt, fell off and started to look like he finally had reached capacity. He managed to make his way to the finish hold, but Jake Townshend, having done so on all problems and in less attempts, took first place and Oskar Wolff could be pleased with second place, leaving third place to Sefton Priestley.
This was Boulder Co's second competition hosting ever—still in their first year of existence—but the competition ran  smoothly. They collected a big team of experienced setters from around the country, had MC Zane Bray guide the crowds professionally through the day and even flew in the comp-seasoned DJ Hayden Jensen to make sure the show was complete. Thank you to sponsors The North Face, Uprising, Bivouac Outdoor and La Sportiva for providing great spot prizes and support. 
The next round is at Uprising in Christchurch on July 30th.
Images courtesy of Lee Howell (www.leehowell.com)